Members of our team have acted in leading cases emanating from Russia, Georgia, Ukraine and other countries in the region.
There are common themes running through most disputes which originate from within the region, and we understand the commercial and business environment in which our clients operate. These disputes also give rise to complex issues of conflicts of laws and jurisdiction, both of which we regularly advise on. Our substantial experience of handling these disputes gives our clients a real strategic advantage over their opponents. Members of our team have acted in some of the recent leading cases emanating from Russia, Georgia, Ukraine and other countries in the region.
Signature is uniquely placed to be able to provide high quality focused advice to those involved in CIS related disputes.
With one of the few senior English qualified Russian speaking litigators, we are able to offer clients in the region high quality advice which truly understands their needs. Ranked in Chambers and Partners and The Legal 500, Natalia Chumak is said to be a "steely litigator with excellent litigation instincts". Clients highlight her "good handle on treaty arbitrations".
Simon Bushell has extensive experience in acting on Russia and CIS-related fraud cases. He is highly regarded by Chambers and Partners for his "intuitive flair for handling disputes arising from the CIS and his ability to leverage his understanding of the region to achieve commercial objectives on behalf of his clients."
"Well known for its representation of oligarchs and other high net worth individuals"
Chambers UK 2020
Natalia is ranked in the Chambers UK and The Legal 500 UK Guides for her International Arbitration expertise. She has previously been praised by The Legal 500 and Chambers UK for her "fantastic experience and responsiveness", for being an "extremely good tactical mind", a "steely litigator with excellent litigation instincts" and she has been praised for her ability to "remain incredibly calm under pressure".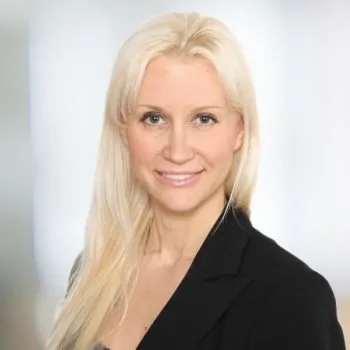 Go to profile
Advising the Claimants in a LCIA arbitration regarding a claim of approximately $200 million for breaches of two share purchase agreements arising from the non-completion of a share sale in a former Soviet state bank.
Advising the family and estate of the late Badri Patarkatsishvili concerning ownership of interests of various assets, in particular an approximately $2 billion shareholding in Metalloinvest, a large Russian metallurgy company.
Advising a group of Ukranian agro-trading companies in relation to claims made by various lenders for fraud and breach of contract amounting to $73 million in outstanding loans.
Acting for an investment vehicle in an ongoing dispute before the British Virgin Islands (BVI) Commercial Court, Eastern Caribbean Court of Appeal and Privy Council relating to a disputed entitlement of approximately $200 million in relation to a $1 billion investment fund.
Advising a Swiss company on the application of the Russian trust management regime to enforce against Russian assets held offshore.
Acting for a Western European bank in claims made against a Russian state corporation.
Acting for two BVI companies and a Swiss trustee company in litigation before the courts of England and Wales, Georgia, and the BVI relating to alleged misuse of powers of attorney resulting in the misappropriation of substantial businesses and companies in Georgia.
SignatureLitigation
@SignatureLitLLP
Signature Litigation has been listed as one of the top 20 specialist firms for client service in a survey conducted by Legalease and published in @LegalBusinessUK bit.ly/2RhXt5S
All news